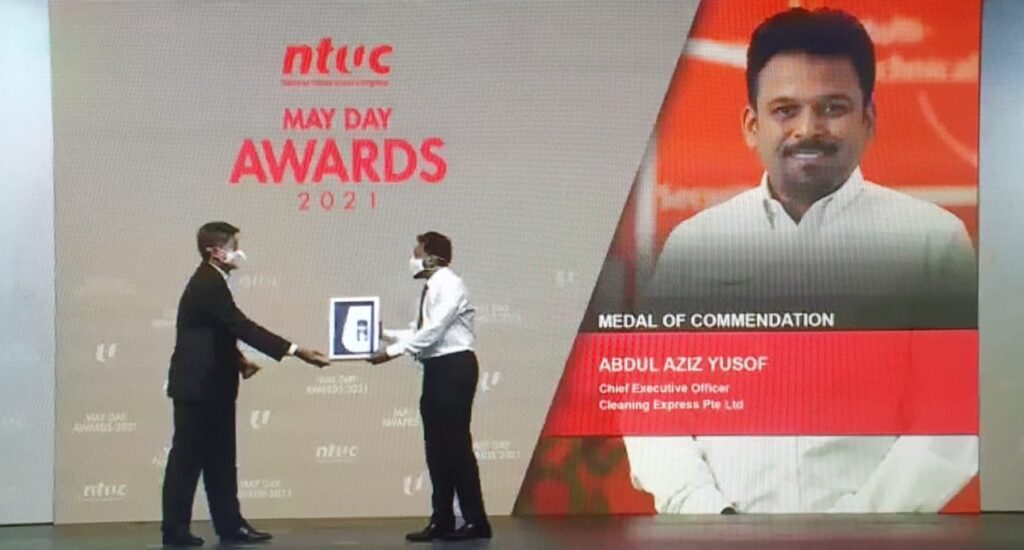 May Day Honours
As we continuously strive to champion employees' welfare and betterment, ATALIAN Global Services Singapore continues to collaborate with key industry players like the Labour Movement. As the steward of the organisation, Mr Abdul Aziz Yusof, as Chief Executive Officer, walks the talk by strengthening the relations with the union that serves workers in the environmental services industries – Building Construction and Timber Industries Employees' Union (BATU).
For his steadfast contributions, he was awarded the Medal of Commendation at this year's May Day Awards. The National Trades Union Congress (NTUC) confers May Day Awards annually on deserving union leaders, tripartite partners, management leaders and model workers for their exemplary contributions, in advancing workers' interests, as well as for being role models at their workplaces.
Over the years, the company has collaborated with the union on a slew of initiatives to promote the progression and welfare of the workforce in the industries. Among them, under his leadership, Mr Aziz has extended his support and valuable feedback during the formulation of the Progressive Wage Models for the cleaning and landscaping industries, right from their inception to fruition. The company was also the first to jump on board the bandwagon to set up a Company Training Committee with BATU. With that, the union was able to conduct its first Operation and Technology Roadmap in 2019.
On receiving this award, he said, "I am really humbled by this award, and in fact, this is an accolade that I dedicate to my entire workforce, who keep our businesses running smoothly through the tides of change and challenges. Without them, this award would not have been achievable."
Photo caption: CEO, Mr Abdul Aziz (right), receiving the award from NTUC Secretary-General, Mr Ng Chee Meng.